---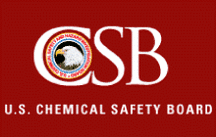 CSB VIDEOS

CSB Safety Video on the April 17, 2013, fire and explosion at the West Fertilizer Company in West, Texas, which resulted in 15 fatalities, 260 injuries, and widespread community damage

​"Dangerously Close"


---

On April 20, 2010, a sudden explosion and fire occurred on the oil rig. The accident resulted in the deaths of 11 workers and caused a massive, ongoing oil spill into the Gulf of Mexico. The rig was located approximately 50 miles southeast of Venice, Louisiana, and had a 126-member crew onboard.

"Deepwater Horizon"

---

The U.S. Chemical Safety Board (CSB) released a safety video of its investigation of the June 13, 2013 explosion and fire at the Williams Olefins Plant in Geismar, Louisiana, which killed two workers and injured an additional 167.


"Blocked In"
---