---




Click on the Image for information on beating the Texas heat & FREE TRAINING!!
---


​
​The National Institute for Occupational Safety and Health provides the following "Fast Facts:"
You can find these and other useful information at:
http://www.cdc.gov/niosh/
---
ZIKA VIRUS

Photo credit: CDC, Cynthia Goldsmith
​

Zika Virus - The most common symptoms of Zika are fever, rash, joint pain, and conjunctivitis ("pink eye"). The illness is usually mild with symptoms lasting for several days to a week after being bitten by an infected mosquito. People usually don't get sick enough to go to the hospital, and they very rarely die of Zika.
However, Zika virus infection during pregnancy can cause a serious birth defect called microcephaly as well as other severe fetal brain defects.

Click on the picture for the OSHA and NIOSH Fact Sheet: Interim Guidance for Protecting Workers from Occupational Exposure to Zika Virus, 2016.


---

OSHA Disclaimer: This document is not a standard or regulation, and it creates no new legal obligations. It contains recommendations as well as descriptions of mandatory safety and health standards. The recommendations are advisory in nature, informational in content, and are intended to assist employers in providing a safe and healthful workplace. The Occupational Safety and Health Act requires employers to comply with safety and health standards and regulations promulgated by OSHA or by a state with an OSHA-approved state plan. In addition, the Act's General Duty Clause, Section 5(a)(1), requires employers to provide their employees with a workplace free from recognized hazards likely to cause death or serious physical harm.

The DSHS has additional information on the Zika Virus in Texas and can be found at:

http://www.texaszika.org/

---
---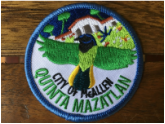 Go see our friends at Quinta Mazatlan, a beautiful place!!







---